Long-term partners for growth
Our Platform
A long-term partner with the resources to support companies across their entire lifecycle.
Software Specialists
We invest exclusively in enterprise software companies. As specialists, our team understands the unique challenges and opportunities growing businesses face every day.
Massive resources
We are a part of The Riverside Company, which has more than $8 billion in assets under management, a presence on 4 continents, and more than 3 decades of knowledge and experience growing small businesses.
Tailor made
Specifically for high-growth B2B software companies. Our investment structure creates better alignment, and is designed to meet the needs of fast-moving enterprise software businesses.
Long term partners
After our initial investment, we have significant capacity to provide follow-on equity capital. Our capabilities and network support growth across all company stages.
True growth capital
Far beyond working capital. We make initial investments of up to $5 million—enough to have a meaningful impact on your business, and to help you achieve 'step function' value milestones.
Acceleration toolbox
Access our relationships, network, and tools to drive efficiencies and growth. Riverside's global platform includes over 80 portfolio companies, and offices in over a dozen countries. Leverage our scale to help you grow.
OUR MODEL
Structured to deliver the right amount of capital and expertise, at just the right time.
Our Focus
We make a small number of investments every year in companies with extraordinary potential.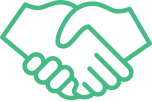 B2B SaaS companies, across all sectors.

Proven business model; $3M or more in ARR.

History of efficient growth, and strong momentum.

Desire to invest in further expansion.
Our Portfolio
We're pleased to work with:
Our Mission
The Internet changes everything. Growth funding shouldn't be an exception.
Business building has certainly changed with the advent of modern cloud paradigms. These platforms have shifted the way products are built and companies are scaled, simultaneously offering reduced technology risk with improved capital efficiency. As a result, today's software companies are scaling faster than ever before, against an ever broadening set of market opportunities. Yet, despite these innovations in business building, funding innovation has not kept pace.
We believe there remains a time for traditional venture models, but that often an alternative is needed. Riverside Acceleration Capital gives companies the capital needed to grow their business, launch new products and maximize value without diluting ownership, control, or optionality. We do so by delivering the right amount of capital at the right stages of growth and development. Our unique model and backing help us to support our companies across their entire lifecycle.
Our Team
We are software specialists, passionate investors, and entrepreneurs at heart.
Contact Us
We love meeting new software companies, so let's talk.